HOME
S
teve,

My name is Jamie McClendon I talked to you about how well the Flow Commander for the Pilot and AIR jets worked for me on my FCR 39 Flatslides. I heard about them from Matt at Matts Motorcycle Performance in Killeen, TX and he and I have been friends for about12 years. He swore by them so he ordered the top end F/C for me and it worked so well a few days later I called him and told him to order me the pilot kit. I could have almost kissed him for how well they made my flatslides work. You really have a good product and Matt is doing a good job promoting it for you and now you definitely have another friend in your corner.
A 150.00 for each kit is very reasonable, you buy a jet kit and off come the carbs and a whole mess of things. This product is user friendly with very precise instructions. So easy a CAVEMAN could do it.

IT REALLY WORKS GUYS!!!!!!!!!!!! Jamie
Steve,
I just thought I would drop you a note to let you know how much I appreciate all the top-level engine work and tools we have received from you and your company. Everything we have gotten has always been top shelf quality, and attention to detail is what sets your work apart from all the others. I truly believe we couldn't have won the races and championships we have without your work. Week after week we counted on and demanded everything to work to the extreme limits, we had to be meticulous in our prep and rebuilds, your products and engine work never let us down. I look forward to many more championships with your help. Your engine coatings have worked extremely well on everything you've coated for us!
Thanks again
Jeff Harding, Owner
Hardings Harley Davidson Evo-Twin Racing
First & Second, w/two bikes in the 2004 Formula USA Thunderbike National Championship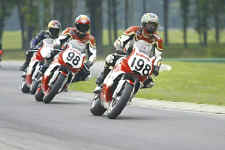 First in the 2003 CCS Lightweight Superbike National Championship
Holder 2 AMA land speed records, Bonneville
---
WOW!!!!!!
I HAVE NEVER HAD THE PLEASURE OF RELAXING AT TRACK SIDE AWAITING A RACE. I DO NOT HAVE A SEMI FULL OF MECHANICS RUNNING AROUND FOR ME, BUT FOR THE FIRST TIME THIS PAST RACE WEEKEND I HAD MY BIKE JETTED PERFECT AND EARLY ENOUGH TO SIT DOWN EAT LUNCH AND ENJOY BEFORE MY RACE. THIS WAS DONE WITH JUST 5 MIN. ON THE DYNO WITH THREE RUNS THANKS THE FLO-COMMANDER. I DID ONE RUN WITH MY BASIC SET UP FROM THE PREVIOUS RACE WEEKEND, THEN GAVE THE FLO COMMANDER A TWIST ABOUT 1 ½ TURNS AND PICKED UP 4HP WITH A PERRRFECT POWER CURVE THAT PULLED AND PULLED ALL THE WAY FROM BACK ROW (forgot to pre-register) TO THIRD PLACE.
Thank you Steve
ORLANDO/OGRACING
#798
---
Hi Steve,

If you remember, I purchased both pilot & main F/C's from you for my R6. I was having some issues with a flat spot & bad cold starting. Well, I'd just like to say thank you for helping me solve the fuelling problems. After setting the carburetors up the way they should be & setting the Flo-Commander's up, my R6 is a completely different bike to ride. Gone is the flat spot at 2800rpm,gone is the rough idling & gone is the bad starting (where it would flood & then pour out smoke when it eventually started!!). I have recently returned from the Isle of Man TT, where I had thoroughly tested my R6 to the max on unrestricted roads (no speed limit for the public!!). It now pulls cleanly all the way to the red line. The quality of your product is superb & what makes it even more special is the way you went out of your way to help me solve a fuelling problem that I had before I purchased the F/C's off you.

Kind regards
Mick L
---
Steve,

I know you don't need any more testimonials so this is just a thank you. Thank you for a great product. I've owned my 1996 ZX-11D for over 6 years now. I have performed numerous upgrades (pipe, jet kit, air filter, etc.) but I wish I could have started with your product. I can honestly say that my bike has never run better or had smoother power delivery. All this with just using your stock settings. I can't wait to start tweaking with the remote control once I install it.

Once again, thanks.
Patrick Pruitt
Silverdale, WA
---
Steve,
I recently purchased a 94 ZX11. It stumbled so bad off idle it was hard to take off from a light, and did this up to 4000 rpm. The guy I bought it from said it had been stored and the gas was old. I soon discovered that wasn't the case. After you went through the carbs, corrected the numerous problems, and I hooked the Flo commander up, I was amazed at the results. The bike is flawless from idle to redline. You truly have a superior product, And your over the phone support was extremely helpful.

Thanks again,
J.Kott
Hartland,WI
---
Steve,

I wanted to take a minute and write about the Flo-Commander 1000 and 2000. First of all I must say that you do some of the best work I have ever been around. You really take the extra hours to make it perfect. This shows in the precision fit we are getting on the FC2000 on the KTM race bikes. Not to forget the power the FC's are making. With the FC 1000 I tuned a GSXR 600 Race Bike that was having a small miss causing instability in the turns. We installed the FC 1000 on the pilot and main side. This allowed me to fine tune both circuits to make the bike corner smooth and also picked up well over 10 HP in the middle and approx. 10HP on top. It's not always the power that so important. The bike is now very smooth and with the FC installation we can tune the bikes right at the track without going in the carbs. This was also the case with the FC2000 on the 05 KTM 525 SMR. Before installing on the bike it dyno`d @ 47.4 HP to the rear. We immediately installed the FC2000 without having to remove the carb. After spending a little time on the dyno with the new bike we got 53.2 HP out of it. I really can't say enough about the products because it took me from having just a dyno used for HP reading to allowing us to really quickly Dyno-Tune with our mobile Dyno right at the track.

Thanks Steve!

Josh Perrymon
Ntune Mobile Dyno
---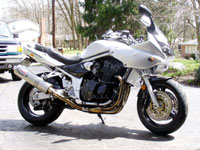 WOW!
What a fine product you have. My 2001 Bandit 1200S is a totally different bike after the installation of your product. I am running The Flo-Commnder, a Yoshi RS1 slip-on w/ K&N Air Filter. This is a for Real, Performance Enhancer. Those who are not aware of this product should be-ware of those who do. The product is of the highest quality and exhibits great pride in the craftsmanship. Please spread the word for the next great tuning invention in the motorcycle industry! Great Stuff!

Joseph Roe
Cincinnati, OH
---
I finally got a chance to get some better riding and testing in w/my RX-1. The immediate increase in RPM`s and response carries all the way to top end. It just keeps pulling!!! It was pretty cold in the morning and I richened up the mixture a little by giving the Flo-Commander a little turn in and it woke up even more. Later in the day I gave it a little turn out and the difference was amazing, immediately noticeable response. Never have I been able to make immediate, noticeable changes without any effort at all. Performance has always been a compromise but now there is no compromise. The Flo-Commander is the best performance & tuning aid I have ever seen!.

Kole Johnson
MN
---
The Flo-Commander takes a lot of the work out of tuning a sport bike with carburetors. I had worked with a jet kit, as a novice, and experienced, first hand, the effort required for installing the components. When I decided to install the FC, and had to remove the air restrictors in the carbs, it was then I realized how much work is needed to get the air delivery right for correct tuning. The Flo-Commander makes the air delivery adjustable without the work. If the dyno-curve is not to your liking, just a turn of the adjusting screw and your change has been made. And better yet, you get more power to boot. My '02 ZX6R with K&N high flow filter and M4 full exhaust has gained 8 hp. The dyno curves are nice and smooth and I am amazed at how consistently and hard the bike pulls when I hit the throttle. Good work Steve !!

Scott T.
'02 ZX6R
---
Steve, I just wanted to let u know how impressed I am with the flo-commander on my 2000 zx9r. On the dyno my bike gained 5 hp. U can really
feel the difference in the power and also how smooth the power is. I do drag race my bike so the smoothness helps a lot when it comes to keeping
the front end on the ground and the tire hooking. It is the best power for the dollar I have ever spent.
Thanks for a great product.
Charlie McGriff
---
Thanks to you, you made my FCR Flat Sides come alive. I was just about to put my stock carbs back on but after spending close to $1500 on the Flat Slides I gave the Flo-Commander a try, the dead spot was gone I couldn't believe such a simple product would work so well, but it did and it was the best investment I've made so far now I will be ordering the pilot setup next, all I can say is thanks.

THANKS JAY
---
Hey Steve

Just installed the FC on my 00-R6 WOW!!! Someone pinch me..... No more spending countless hours at the garage or the pit, what a great tool. Well just wanted to say thanks for a GREAT product, I couldn't be happier & I recommend it to everyone I know!

Sincerely

Bent from Denmark
---
I recently installed both a pilot and main circuit systems on my ailing ZX9R. All I can say is this product is amazing. The bike idles smooth, cranks easy, and the big problem of the rpm's not dropping when I let go of the throttle was solved. I don't know fully how it works, but I know it does work.
Thank you very much

Brad
---
Steve,

The BGV Racing team just wants to say thanks again. The Flo-commander is the single most important product that we have. This past race weekend at Roebling Road Raceway, the weather was changing several times throughout the day. It would start off very humid and hot, then go overcast, then rain, then clear, etc. Because of this we did not know exactly what the jetting requirements were going to be until the last minute. With the Flo-Commander we were able to make last minute adjustments that otherwise we would not have been able to do. Because we were able to make up to the minute mixture adjustments our bikes were running very close to optimal. We WOULD NOT have been able to do this without the FC. This allowed us to bring home 4 1st place trophies. We had 2 firsts in AM and 2 firsts in EX Ultra Lightweight Superbike. Not to mention that James had a 10th place finish in Unlimited GP against 600s and 1000s on our little 250.

Thanks again for an awesome product
Duzzi
Ex #413
www.bgv-racing.com
---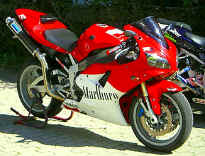 Hi guys,

I must say, I am impressed by the Flo Commander on my ´98 Yam R1. It all started with your delivery within 3 days here to Europe! Then after about one hours work installing the system I was really amazed by the way the system boosts up my bike. After having searched a long time I finally found what I was looking for. My R1 is equipped with a ram air system, Full pipes, open filter and jet kit and I just couldn't get the bike to run smooth, it would always ´stall´ on full throttle. Now after installing your system I am finally able to beat the GSXR 1000´s and CBR 1000 RR´s around here. See ya on the roads..

Greetings
Rene Rijsdijk

Trainer, Holland Ski Team
---
Steve,

I recently purchased the flow commander from you guys, and used it in conjunction with my Ivan's jet kit and Hindle slip on, on my 02 R6. After installing the jet kit and the pipe the bike really came to life, the 6k dip was greatly reduced and the top end came on much smoother and stronger, however i still wasn't completely satisfied. I then purchased your product after much debate. I was skeptical to spend the money on something nobody that I knew has ever used. Well after I installed the flo commander and put it on the dyno, I gained 6hp at 6,500 RPM`s i gained 4hp at my peak hp and at 14,500 RPM`s I gained 7hp. I got the mid range finally leaned out to 13.2 to 1 all while keeping the top end right in spec. The throttle response and pull is sooo smooth. This bike feels better than any 03 or 04 that I have ridden and pulled an impressive 104rwhp with just those previously mentioned mods.

thanks for your amazing product

M Sommers

Wisconsin
---
Steve,
Wow, what a difference. I was amazed at the transformation of my 98 Bandit 1200, 2nd gear wheelies without meaning to, major torque & hp increase and throttle response is incredible. I really didn't think I would see that kind of increase, but your product really delivers. Thanks for truth in advertising.
God bless,
Jason
---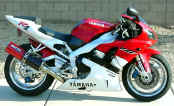 Steve,
I just wanted to take a second to thank you for such a great product. I have a 99 Yamaha R1, that is the 2nd love of my life. A little while back I started having some horrible tuning issues. After just about every other carburetor product out there, I was introduced to the Flo-Commander. What a night and day difference in my bike. I follow one of the Forums quite a bit, and many members have made mention of the FC. With one members suggestion, I tried it, and I am hooked ! One of the best things I like is I can dial my mixture in just about anywhere in only a couple minutes. I drag race quite a bit, and we are ever pushing for more horsepower. I have the unfair advantage over my buddys ( for the time being ). I can get more horsepower by the turn of the knob. I have them sold on them now too. Its also great when I travel, I can always have the best performance, with the least effort. I say this, it sure beats pulling the carbs off to jet it all the time. It sure is a lot smoother now too. Any ways, just wanted to say thanks, and keep up the good work. I will be trying that pilot circuit on here soon !

Sincerely,
Brian Wells
Phoenix Arizona
---
Steve,

Thanks for a great product. The flo-commander made all the difference in the world for me this season. Without it I don't think that I could have won the regional championship or finished 2nd at the Nationals, or be able to finish on the podium 14 times. The ease of tuning gave me the capability to always be dialed in at the different tracks. This saved me a lot of time and headaches, not to mention the extra power and ride ability. The power comes on so much smoother and is a lot more predictable. Thanks again for such an awesome product.

Daniele
BGV Racing #413
---
Steve,

What a season. The Flo-Commander really helped me keep up this year. I won the Florida region D Superstock class in WERA, and finished 2nd at Road Atlanta in the GNF. I had 8 wins, 2 2nds, and 4 3rds. The Flo-Commander made jetting so easy with all the weather changes, along with all the added power and smoothness. Thanks a bunch.
James Hillis
WERA 241
---
After spending $$$ of dollars on jets, needles, etc...with the big company and talking with their tech depart, I was told I would have to live with the very bad dead spot off idle and when you suddenly open the throttle on my 39mm FCR downdraft equipped ZX-10, they said the FCR's are a roll on carb only and there is nothing that could be done to fix the problem, boy were they wrong, I saw your add on the net and decided to take a chance and order your main circuit & pilot kit, it was the best chance I have ever taken, now my big bore, stroked crank, pro head, cams and header equipped ZX-10, has throttle response better than it did stock with CV carbs, you have to try this amazing product, as there's no words to describe just how good it really is, WOW!!! doesn't come close. To show you how much I believe in your product, my 2002 Yamaha TZ250 & 2002 Honda RS250R carbs for my 250 Superkart are on their way to you as we speak to be fitted with your product.

Thank you,
Steve Tillman
Wichita, KS
---
Hi Steve,

O.K. I got the kit yesterday.

I installed the kit in a little over an hour and a half. Did a final check of fittings, replaced the bodywork and tank then fired it up. The first reaction was WOW!

I quickly need to explain how the bike ran before I installed your product first. The Honda would always fire up fine but idled a little rough (compared to now). When you "blipped" the throttle off idle it seemed like it would stumble quite a bit. That one problem (if you could call it a problem) seemed to get a little bit worse when it was hot. I didn't notice any major flat spots in the upper RPM range but did notice it would pull hard around 7 to 8 grand and then pull great throughout the rest of the range. I definitely was unhappy in the lower RPM range though.

With the kit = Noticeable improvements overall. The bike still pulls great in the upper RPM range but there is a definite improvement on how hard it pulls. The bike idles way better, and I mean WAY better just sitting there. The stumble when "blipped" off idle is relatively gone. I also got an increase in performance in the lower end RPM range. I am just blown away. I have owned bikes before and fiddled with jet kits. Nothing prepared me for the night and day difference your product delivered though. With the older bikes I owned I constantly had to adjust the carburetion. It was horrible, one of the reasons why I was so reluctant to just put a jet-kit in and go. For me, I can ultimately say the Flo-commander was a great add on for my CBR 900RR. This thing should allow me to dial my bike in like nothing else I've ever tried. If the main kit worked this good what would the pilot kit do for me?

Thanks again for a great product and awesome customer care.

John Stixrud
---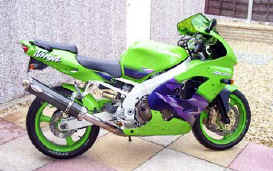 I have a 1999 c2 zx9r, I installed the flo-c (which only took 5 days to arrive to the UK) and the power curve and the smoothness through the rpm range is awesome. The flo-c was easy to install and value for money. Great service and great product. See pics attached.

Thanks again Steve.

Andy UK
---
Hey Steve,
I just wanted to thank you again for all the help you've been. Now that I've got the Flo-Commander on my bike the entire RPM range feels great! The bike has more get up and go now than it ever did! The low end feels absolutely great and that used to be the weakest link in my FZR 600. What I really love the most it is that it smoothed out the entire hp curve. That made the throttle control sooo much easier and made every corner that much more fun. I couldn't be happier with my purchase! I recommend it to everyone I know!
Travis Wilson
---
Here is an update on the pilot circuit unit installed on my RS 250. Since installing the additional one the power and control has only gotten better. The power starts harder and sooner than before, and now it has an even longer power curve. I have finished in the top three almost every time. I have had six 1st place, and three 2nd place finishes. The Flo-Commander has given me the same power you get from a set of pipes, along with other benefits without the cost.

James Hillis
---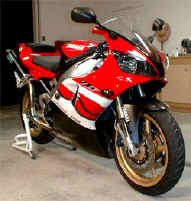 Steve,

Just wanted to comment on the benefits I realized after installing the Flo-Commander on my '00 R1. The engine is stock with the exception of a slip-on and high flow filter and ran fine once on the main circuit but had an annoying stumble during mid corner roll on. Your product has completely cured this problem and makes the bike much easier to ride smoothly. The lean pop I had on deceleration has also been dialed out. Installation was easy and the finish quality of the product is so good, I wish it wasn't hidden inside the air box!

Thanks Again!
Marty C.
Jacksonville, Oregon
---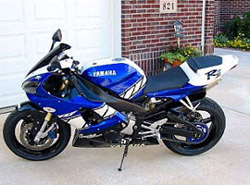 Steve,
After spending over $250 with a professional tuner, my R1 with a full race system and a --------------- jet kit, still had huge hesitation problems that were really bad. I was so upset about it that I was willing to sell the performance accessories and go back to the factory set up. I went to an online forum and was told by several racers to try your product the Flo-Commander. I installed the main air jet system in just a little over an hour. Man what a difference! The bike pulls so hard I really have to hang on! The hesitation was still slightly present at the very bottom of the RPM range, so I decided to install the pilot circuit as well. I turned the screw to the left and found my tuner had the pilot circuits running too rich. The idle started to really sound nice and smooth, not to mention an exhaust leak sounding tick disappeared. All I can say is you have really created a great product that is easy to use and I wish I had installed these before I even bothered with having a professional install my jet kit. I have absolutely no carburation experience, but found your install guide more than simple to install especially with the detailed pictures. Keep up the good work, you definitely saved my bike. Here's an attached image of my Champion's Edition R1 with a black powder coated frame. Thanks again, this was the most valuable performance part I've ever purchased!
Justin Sievers
---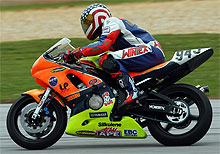 Steve,
I just wanted to let you know just how easy having a Flo-Commander on my race bikes makes compensating for slight elevation changes. It is incredible that by simply turning a screw I can assure the perfect A/F ratio from track to track and forecast to forecast. Talk about innovation! Another beauty of the Flo-Commander is that it allows me to run pump gas in practice (leaner mixture) and pricey race fuels in my races while not losing power due to a bad A/F ratio! In practice I go in, lean it by a turn; then when I switch fuels I just turn it back again. You've saved me so much time and effort in the pits, plus the Flo-Commander has produced the smoothest dyno curve I've ever seen from an R6. I can definitely tell a difference on the racetrack.

At Road Atlanta I finished out with a 6th in B Superbike. This past weekend, at North Florida, I put in several good races that culminated in a third in B Superbike. Needless to say the last two weekends have given me substantial rank in the WERA points standing in the North Florida Region.


Shannon Moham
---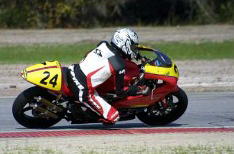 Steve,

The FLO-COMMANDER is the ultimate carb jet system! The FLO-COMMANDER took all the sudden hit from the 2 stroke power band, lengthened the curve at the top & bottom and smoothened the curve. The bike is so much easier to ride and tune. My stock Aprilia 250 with the FLO-COMMANDER will now pull 5 teeth taller than factory gearing.
James Hillis
---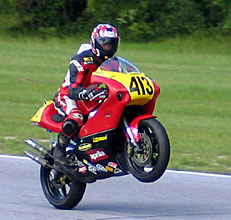 Steve,
All I can say is WOW! The Flo-Commander made all the difference, on my Aprilia. I installed it on the bike and quickly noticed how much faster it revved and the instant throttle response. The F/C sent me to a 4th place finish in my first race ever. It made the bike so much more rideable. What use to take me 30 min to make a jetting adjustment now only takes me seconds. The F/C has given me the ability to be competitive even against the bigger bikes. Thanks Steve for a great product!
Duzzi
BGV Racing #413
---
Steve,
All I can say is wow!!! This is a bike transformed! Everything I did before, jet kit and headers, made a small difference compared to your system. The bike is smoother running, smoother transition between the different fuel circuits and much more powerful than before! The front wheel comes up at will, and now comes up in second gear the way first gear did before. I am very impressed with the quality of your system and the performance increase. Thank you very much!
Dallas
---
Steve,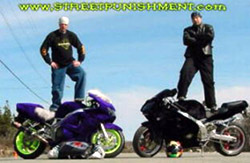 I have an 2000 and a 2001 ZX9R. The 2001 I completely rebuilt from the frame up including the engine. I installed a K&N filter, muzzy cam advancers, full race exhaust and a jet kit. All of these things made a difference in performance. The largest increase in performance was when I installed my flow commander. I went from 142hp to 150.3 rear wheel. This was very impressive.
The flow commander allows you to have smooth power all through the RPM range. My ZX9R pulls so hard, that it is hard to keep the front wheel down in the first 3 gears. I highly recommend a flow commander to anyone that is into racing or stunt riding. I do not believe that there is any other products out there that offers this much power increase for the price.
I have attached pictures of my teammates and my bike.
Randy S.
Freedom Cycle &
Street Punishment Stunt Team
---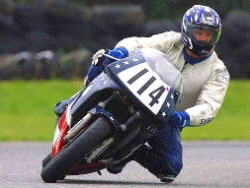 Congratulations "Chip" Mayfield on the W.E.R.A. Championship Title !! Total wins in WERA this season - 7 wins & the Championship in Vint. 6 and in Vint. 7, 4 wins. Also a few second place finishes as well, great job!!
---
Steve,
After exorcising some electrical demons from the bike it ran great. Also the flo-commander on the idle circuit sure did help. The flat slides used to try to stall all the time, and the pilot circuit was a little sluggish as far as response goes, now it's as smooth as glass, as the RPM`s and throttle position go up from the slow speed circuit to the main circuit. Then the main circuit Flo-c takes right over. The midrange is awesome and very smooth; no "on/off" jerkiness, just smooth rpm's through the corner to a nice strong linear power application out of the corner. I was getting an unbelievable drive out of the corners. Wheelies all up and over 5 and out of 10b. I was getting a drive on the other guys and that made a huge difference on the back straight. Thanks Steve.
William "Chip" Mayfield
#114 Wera Vintage 6
---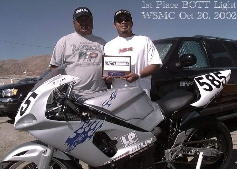 Steve,
First off, thanks for the fast and awesome work fitting the flo commander to my EX500 carbs. I like to test different settings on my bike always searching for a little extra, but all the jetting changes were getting old, so when I heard about your product I knew it would help me out a lot! It works as described, the best part is I can hold the throttle wide open without it bogging or surging which has helped my race starts and top speed. First race out with the flo-commander I scored my first expert win! Thanks for all the help.
Rudy C.
WSMC #585
---
September 10, 2002
Kipp McGowan
WSMC #516
Re: Flo-Commander (2000 GSXR-600)
Dear Steve Kesselring,
I have to admit that I was skeptical about your product in the beginning, but after installing and testing it on my 2000 Suzuki GSXR-600 racebike, my skepticism disappeared! Your product is a pleasant surprise to most contraptions out there; as it REALLY does work the way it is marketed. I was real impressed how it cleaned up throttle response, and off idle throttle input. Thanks for the opportunity in testing the FC, I will recommend this product to everyone!
Kipp McGowan
---
I noticed a significant increase in bottom end torque and quicker throttle response with the addition of the Flo-Commander. Mid-range torque was also increased due to this simple, but effective tool, which allows even airflow into each of the bikes carbs. I own a 98 model ZX-9R and this piece of equipment has, by far, offered the most bang for the buck. The Flo-Commander was very easy to install with simple hand tools and has proven itself to be a great addition to my bike..
Sincerely,
A. Hensley McCoy Motorsports
---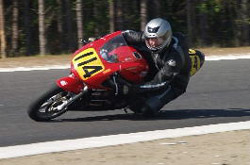 Hi Steve,
This past week I went and put my SV on the dyno. I had dyno-ed the bike just before putting the Flo-commander on. It registered 60.7 HP. The only change I made was the Flo-commander and perhaps the 17mm tank spacers. I have always had the spacers, I'm just not sure if I used them the first time I had the bike on the Dyno. Even so, the difference was remarkable. The best test was 66.2 HP. This was with a 1/4 turn to rich, from the setting that was present when you sent me the Flo-commander. An almost 10% increase, which is quite remarkable.
Along with the increase in power there was a definite improvement in smoothness. This really showed up in the higher RPM's. On the first dyno the top was extraordinarily choppy, this was smoothed out by the Flo-commander.
Thanks again,
W. Lurtz
---
Hello. This is Noel -from CA who recently ordered the Flo-commander for my VTR1000 Super hawk.
AWESOME!!! - that's what I think about the FC. You really made a believer out of me. It used to be that my idle was rough, slow throttle response, sluggish, and not to mention - popping from decel, - but not anymore. Not only did the FC corrected all these problems - it made a huge jump in power (seat of the pants feel).
I am really, really satisfied with your product. Thank you.
N. Bonita, CA
---
Today, I took my bike back for the first time and for the first time tasted the smoothness of a great product, the "Flo-Commander". Awesome!!!
Thank You Steve,
Amran
---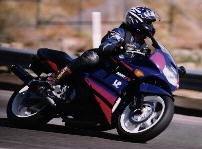 Thanks very much for allowing me to try out the Flo-Commander. I have yet to Dyno the bike, but I did feel a great improvement in my low and mid range. It brought some new life into my aging CBR F2. It was definitely one of the simplest upgrades with the most gain that I had ever put on a bike. The bike runs smoother than when it was new. You have a phenomenal product. I know you will do well with it.
Thanks Steve,
Best regards,
Peter Michael Kate III
Product Development Manager
Lockhart Phillips USA
---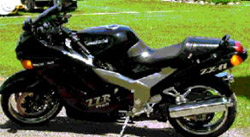 What a difference the Flo-Commander makes. I Installed the system on my 94 (stock) ZX11D, in about an hour I was out testing it out. The stumble around 3500rpm the zx11's are known for is gone. To make adjustments it is fairly simple to understand with the great literature included with the kit. Everything to complete the installation is included. What a difference!!
Thanks Jim B.
---
I own a Kawasaki zx11 road bike with highly tuned engine producing over 170 bhp, and fitted with 39 mm Keihin flat slides. Despite many changes of main jets, needle clip positions, different needles, and primary jets , it was just impossible to get the bike to "carburet" cleanly through the rev range. All these changes were tried out with the use of a dyno with air/ fuel monitoring. I fitted a Flo- commander kit, out of sheer frustration & I was willing to try anything to improve power delivery.
WELL WHAT A DIFFERENCE SINCE I FITTED FLO- COMMANDER All flat spots have been removed, and power delivery now is just fluid smooth right through the rev range.
I have a full race tuned motor with flat slides, that now drives like a well set up stock motor with cvs.. its hard to believe , but every time I ride it there is no doubt , I have to believe it so thanks to Flo-commander, a fast bike has been turned into an enjoyable bike at all speeds.
Thanks, A. D.
---
Sweeeet!
I had installed the jet kit yesterday and still need a little adjusting but WOW! I am impressed. She runs sssoooooo smooth. I love it. There were a few problems with the previous jetting I didn't realize, like the needles (from ( ) I think, the previous owner had installed were a lot longer and had a really high clip position. The jets were undersized and the mixture was wrong for the application. The best thing I have on the bike now is the Flo-C because of the benefit of easy adjustment and tuning. It will take a little time for me to get it just right but it's a 100% improvement.
P.S Thanks for everything!
Paul F.
---
Hello Steve,
I got my bike back yesterday...installed the Flo-Commander today. WOU-HOOOOOU!
That's amazing what a diff. it made! all I did was turning the dial 1/4 turn to lean out a bit from the stock setting (the one it came with) and all of a sudden, smooth off idle, great throttle response (never been that great) & insane acceleration! I was talking positively about it in my numerous boards and lists, but I was restraining myself since I never experienced it....but if I ever find somebody bad mouthing your product, I'll put him right on track believe me. (in a cordial manner, of course).
Thank you many times...
M.C.
---
Hi Steve, I've had my kit on my 2002 ZX-9R for about a month now, and I have to say IT ROCKS! The engine is noticeably smoother and stronger thru the whole rev range. This has got to be the best mod for the buck on carbed bikes on the market. You can feel the reduced vibration at every place your body contacts the bike. I went over a little rise in 3rd at 90+ and it wheelied! It never did that stock! Hats off for a GREAT product. From Somewhere Wide Open in the Deep South, I am "Wheelie" Neal
---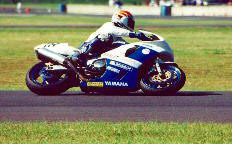 Winning my first time out this season was great! I was impressed with the smooth, strong midrange of my Flo-Commander equipped FZR 1000 and the top end was also very strong. Racing is in the details and the FC makes tuning changes easier. I'm looking forward to winning a few more! Thanks Quality Engine for coming up with a tool that makes my bike faster and, wow, easier to tune! Un-heard-of!
William "Chip" Mayfield
#114 Wera Vintage 6
---
Hi Steve , I just wanted to drop you a line to tell you what I found after testing the Flo-Commander. I can't believe someone finally came out with the one puzzle piece that has been missing with jetting . This product works exceptionally well and is simple to install and adjust. I will recommend this to all my customers whether they have a jet kit installed already or not. I tested a 1999 ZX9R that was totally stock and just been tuned , when I was done it was worth about 6 hp and was smoother over the whole rev range, I was totally impressed.
Jim Rashid 4&6 Racing Inc.
---
Steve, I just wanted to thank you for supplying the sportbike industry with the best advancement since water-cooling was introduced back in the early 80's. I have been riding motorcycles for over 25 years now and I can honestly say that the Flo-Commander has been the only product that has given me the feeling that I didn't waste my money. This little gem has brought life to my bike that I never thought it had. My 98 ZX11 has become a totally different bike since I installed the Flo-Commander. My midrange power is incredible, as the bike lifts and will go completely over if I'm not careful. Mind you, I weigh in at a hefty 270 pounds and even with a full tank of gas, this heavy boy lifts and pulls like there's no tomorrow. I am recommending the Flo-Commander to all of my buddies and they are buying this bad boy and getting the same results I got. Once again, thank you for providing me with this great product and keep up the good work.
Jose Heinsen
Senior Training Analyst
---
Steve,

I have a small shop in the Conyers Georgia area. I specialize in complete engine service and a special division for polishing. I have a ZX-11 that I use to demonstrate my capabilities and also as a test platform for new systems and processes. It was in an effort to remedy a rather severe rough running between 1000 and 2000 rpm that I gave your Flo-Commander a try on my bike. Everything else has failed, and the expert opinion seemed to suggest that this is just the nature of the beast, when someone has 'built' an engine with the Keihin 41 mm flat slide racing carburetors. Well, I gave your system a try, as you know, and it instantly eliminated the low speed roughness, and made a great impact on the overall performance of the FCR carburetion system as well. The best way I can express it, is to say that it corrected problems I didn't know I had. It is like a different bike. Smoothness is another key word, which comes to mind. I have subsequently installed a number of your kits, and all have resulted in the same kind of overwhelming improvement. Every customer has exclaimed things like "Incredible, unbelievable, it never ran like this before" etc. Installation is straightforward and your kits have included everything needed, and then some. This certainly gives all indications that it will become a significant part of my future business.
Dave Leonard
Leonard Cycle Service
---
Hi, my name is Ben Morehead. When I got my Flo-Commander I was blown away. I was under the impression it was mainly just for tuning . I had no idea it was going to actually add 5 HP to my F-3. It was definitely more than I could have imagined. I could literally feel the increase as soon as I took off with it.
Thanks Flo-Commander
---
Steve, I am writing to tell you that I am amazed with the results your Flo-Commander on my 96 ZX11. It's so amazing something so light weight and affordable can make so much difference on a motorcycle. I am not in the motorcycle industry. I have rode bike s for 30 years and re jetted added pipes and diff. things and I have 6 bikes now. Your product is amazing my bike is soooo smooth and predictable out of the corners . My ZX11 always had a bog off idle and about 3k rpm, now it pulls so smooth from 2500 rpm its amazing. On the dyno at 6kRPM I have almost 10hp more.... the added torque and HP is so nice the throttle response is so much more linear. I rode it to Daytona for bike week put over 1K miles on it that weekend & it ran so fine....any way in closing I would like to thank you for your product. The Flo Commander is the best hp and torque gain for the money anywhere............
Brent Chesser
General Manager
Dixie Chips Inc
---
I received the F/C. It installed very easy, and what a difference it has made! Thanks a lot.
Jim B.
---
Hello I've been a full time Motorcycle Technician for fourteen years. I've installed many Jet Kits, pipes, filters, and every combination thereof. After talking to several that had already installed it, I could not believe their excitement. I rode a customer's bike that had one on it. WOW, It's amazing how well it works, Steve Has done his homework on this. I was so impressed I installed one on my own SV 650,and the results were great! The power and torque curve is so smooth, and it gained about 4 extra ponies. My bike is stock, other than the Flo-Commander. I love my bike, it's my get-away-from-the-stress-machine. Any of you guys or gals that want your bike to perform better for just a small amount of money, the Flo-Commander is for you. This product really works. The Flo-Commander has made smooth affordable performance easy. Put this baby on your bike, and after one whack of the throttle, you'll be happy you did!
Ronnie N.
---
Steve- Just a note to tell you how much I like my Flo-Commander. After installation and tuning I have increased the quarter-mile trap speed on my 98 ZX-9 by 3.8 mph. This is more mph than the full M. system that I purchased at three times the price. The increase in torque is noticeable starting at 2000 RPM and is felt till the rev-limiter shuts it down. This thing Rocks!! Thanks for the great results!! Money well spent! ..... also cured the flat spot just off idle.
Steve Whitaker
---